(1) Unique positioning achieving "Employee Success"
The "TeamSpirit" series enhances the productivity of employees and teams by accurately recording the working styles, and visualizing and analyzing the daily activity records from multiple perspectives. It is designed with the idea of achieving "Employee Success".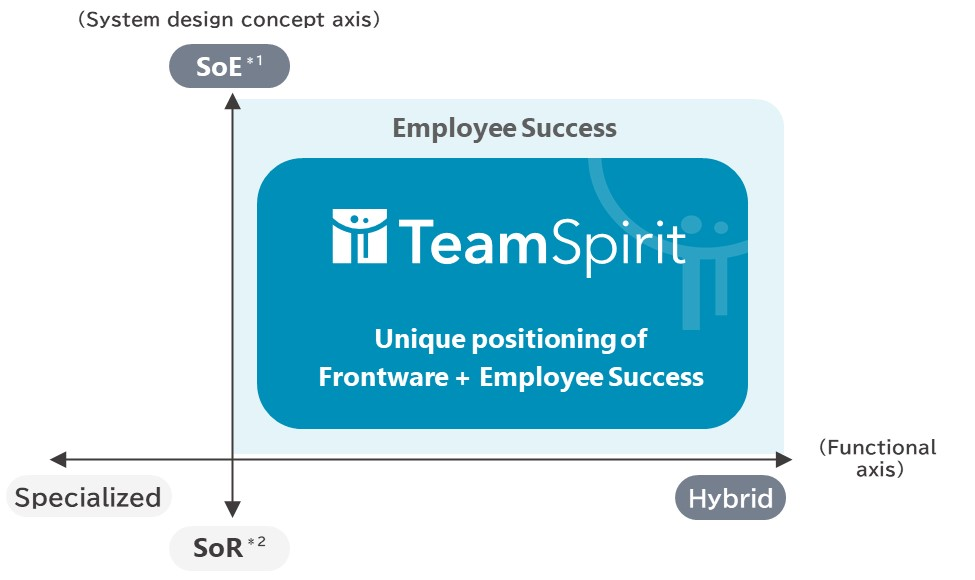 We are located in the area where SoE (vertical axis = system design concept axis) and hybrid type (horizontal axis = functional axis) overlap, and this area is defined as the "Employee Success" area. Our position of SoE and hybrid type is unique while many ERP frontware*3 SaaS are in the area of SoR and hybrid type or SoR and specialized type.
Our "TeamSpirit" series contributes to enhancing the productivity of employees and teams by making employees' daily input works more efficient with an overwhelmingly easy-to-use interface from the user's perspective, and also visualizing and analyzing work styles from multiple perspectives.
*1 Abbreviation for System of Engagement, SoE references a system designed/developed to strengthen bonds between the business and user.
*2 Abbreviation for System of Records, SoR references a system designed/developed to emphasize safe management and appropriate output of internal information which represents the core system.
*3 ERP frontware is a word created by us that refers to business systems that have a data entry function to ERP. It is the system that the users input and operate attendance management, man-hour management, and expense settlement which is located on the front side of ERP from the users' point of view.
(2) Strong customer base composed mainly of mid-sized and above companies
The "TeamSpirit" series has been introduced by more than 1,500 companies, including industry-leading companies and high-growth start-up companies, andmid-sized and above companies account for approximately half of the contracted licenses.. For our strong customer base, please see the case study here.
In general, mid-sized and above companies contract a large number of licenses per company, which drives the expansion of the number of licenses*1. In addition, the more licenses they have contracted, the more expenses and time they will consume in the case of cancelling, so the number of cancellations tends to decrease, which will contribute to the reduction of our churn rate*2. Thus, our customer base which consists mainly of mid-sized and above companies is very stable and profitable. This is our one of strengths.
*1,2 Both are important KPIs that represent the growth of our business performance. Please see our performance highlights for the KPIs' transition so far.
(3) Advanced functionality and support system selected by mid-sized and above companies
We believe that the reason why we are selected by many mid-sized and above companies and above is our advanced functionality that can handle complex requirements and our extensive support system.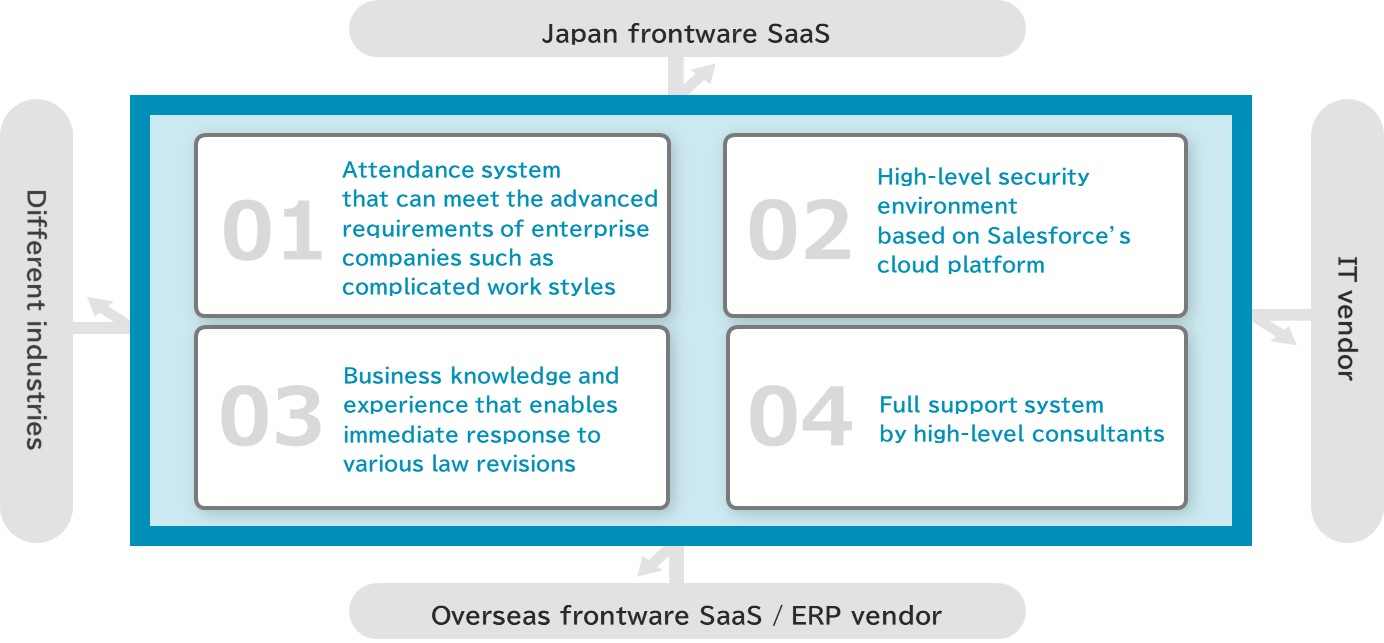 Our "TeamSpirit" series is built on the cloud platform provided by Salesforce.com, Inc., which is headquartered in the United States, and provides a high level of global security environment. Therefore, enterprise companies who have strict security checks in introducing the system can use it with confidence. In addition, customers can link other applications on Salesforce's CRM and AppExchange with our "TeamSpirit" series, enabling more advanced employee management and analysis.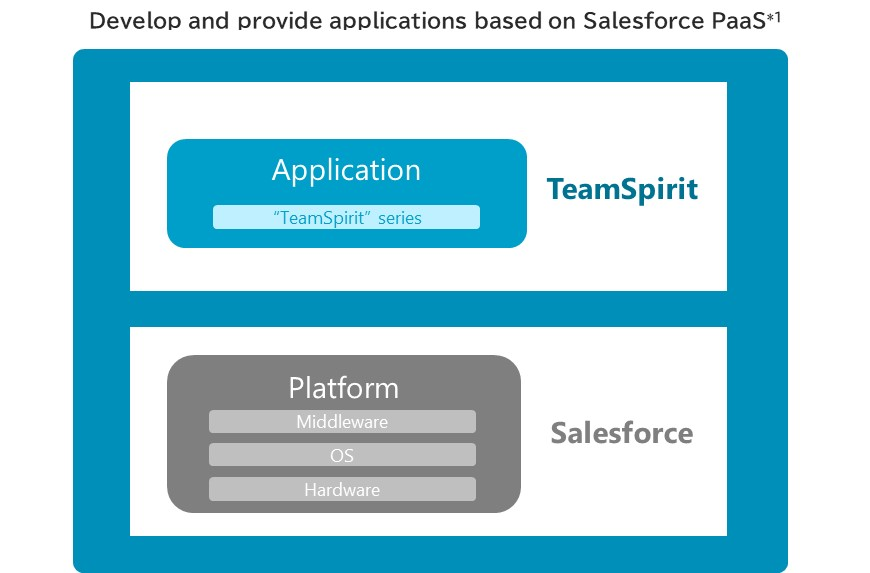 *1 Abbreviation for Platform as a Service. It refers to the form of providing a set of platforms such as hardware and OS for running application software as a service on the internet. Developers will be able to develop applications on that platform and provide them as a service to their customers.
(4) Business model that combines stability and growth potential
We would like to introduce two major characteristics of our business model.
Single source / multi-tenant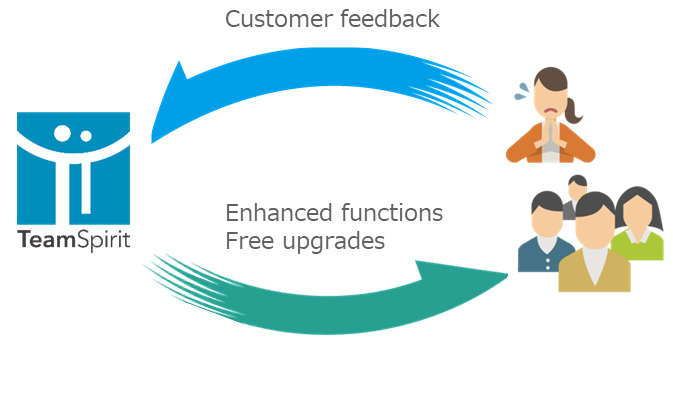 By sharing one application with all customers, we can aggregate the customer feedbacks and effectively enhance the product functions. This will further increase customer satisfaction, reduce the churn rate of existing customers, contribute to the acquisition of new customers, and serve as a foundation for creating a virtuous cycle of business.
Furthermore, we focus on functions such as attendance management, man-hour management, and expense settlement that all employees use on a daily basis, which means that the system is with high customer engagement. Therefore, the churn rate tends to be lower than other SaaS companies which provide the functions used only by employees in the corporate department.
Subscription business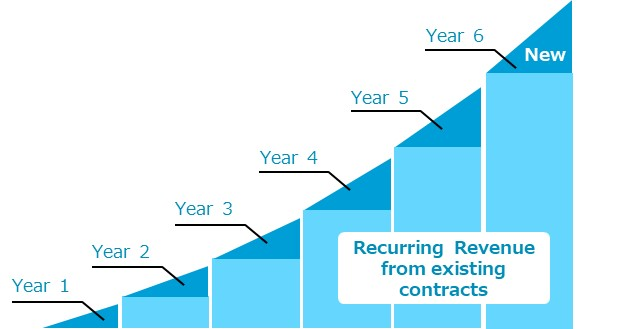 We provide services with an annual contract, which is the basic fee charged for each license x the number of licenses according to the number of employees of the customer. Since the annual contract is a one-time prepayment, there is no risk of cancellation or collection concerns during the contracted period, and cash flow is stable. In addition, the recurring revenue, which is accumulated every year unless a cancellation is requested at the time of contract renewal, accounts for about 90% of our sales, and we are building a stable business structure.